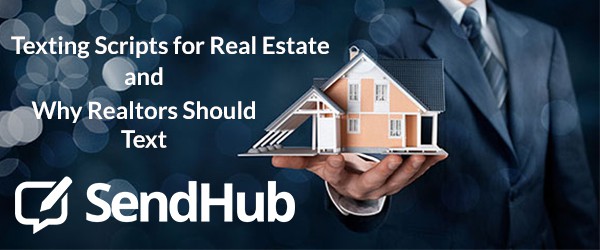 If you're a real estate agent who finds that you spend too much time talking on the phone or traveling around for different meetings, you might want to consider using text messaging and these texting scripts for real estate. Text messaging is an easy, quick and personal way for real estate agents to connect with leads. Using preset texting scripts for real estate agents can help you find and keep clients.  Real estate agents are texting their clients these days and Sendhub is helping them do it professionally. This article will help you better understand why your real estate business needs to start texting with Sendhub, it will provide texting tips for lead generation and nurturing, and at the end of the article we provide fifteen example texting scripts for real estate agents.
3 Reasons Why Texting Can Work Wonders for Your Real Estate Business
1. Texting is personal
Texting has the capacity to be both personal and prolific – it's direct and brief, and it doesn't add any undue pressure to either party to answer in an immediate form. Allowing clients to communicate with their real estate agent adds a whole new personal dimension to the business relationship which can save you time and money.
Therefore, with SendHub's outbound MMS feature, it's easier than ever to add embedded multimedia to your text messages which is a perfect way of keeping new clients up-to-date on local house images and videos. Outbound MMS shows your clients indoor and outdoor features of different homes. A picture is worth a thousand words and sending a tour via text message adds the personal touch that your client seek in a realtor as they make one of the biggest decisions of their life.
In terms of texting scripts for real estate agents, oftentimes, pre-written scripts are not even needed because the text messages are so organic, on the spot, conversational and concise. In the texting scripts for real estate examples below, you'll see how building your one-on-one relationship with clients can easily be done via text message.
Finally, in terms of making marketing announcements feel personal, using SendHub to manage real estate text messages is also helpful when needing to let people know about events like open houses ASAP. Appointments are always coming up and now texting is the most efficient way to confirm last minute details, especially when time is limited.
2. Texting is quick
Texting is so simple and fast. Whether you send a mass text to 5,000 people or you do individual and automated appointment reminders, or even manual one-on-one texting communication with a client, texting is quick and efficient which a good for business, especially real estate.
When you use texting scripts for real estate, you can replicate responses to common questions or recycle language for previous events easily and text it to the right contacts without sweating. Furthermore, you can easily use these scripts to answer people in a clear, polite way that encourages them to keep in touch. You can also set up auto responders to let them know that you're interested in talking to them as soon as possible. When scripts are done right, this can make you look professional while still keeping up a friendly and personal tone, which can go a long way in building trust. Ask a SendHub representative about the MergeWiz tool and MMS and how this helps realtors boost sales.
3. You can text message from anywhere
Similarly to texting being quick, you can also text message from anywhere. Most real estate professionals spend a lot of time in their cars, and being able to access various clients from different locations (without fumbling around with your tablet or laptop) is important. With SendHub, you can text anyone in the US and Canada from our web-based application or mobile applications. Agent(s) can easily manage all their client communication from anywhere they can find wifi.
This can be especially crucial in the case of cold traffic or warm leads – e.g., someone who just found your name online and is making their first inquiry. Since they will want to get a sense that you are both responsive and trustworthy and getting back to them immediately is essential. That's why savvy marketers will often set up an integration with SendHub and their website so that all their new inbound leads from their website automatically get a text message.
Texting Tips for Lead Generation and Nurturing
The truth is that people are more likely to respond to texts than emails. This is especially the case if you give them a reason to respond. To this end, you can easily use text messages not only to inform your customers but also to ask them questions about what they need.
For that reason, here are some examples of text messaging etiquette and how you can use scripts to support your leads and customers:
Ask a question about their availability
Follow up to make sure that they're receiving emails
Follow up to see if they want updates on new listings
Send thank you messages
Messages encouraging them to reach out if they're thinking about purchasing or selling in a specific area
Messages asking if they'd like specs on certain houses in a neighborhood
Polite autoresponder messages detailing when you are next available
Texting Scripts for Real Estate
Finally, and probably most noteworthy, here are some real life example texting scripts for real estate agents:
"Click to view open houses that might be of interest to you. Here are those in the Dallas area in the $350,000.00 max price level. See examplerealestatelink.com"
"I have 8 amazing listings that won't break the bank! They range from $58,000-$130,000. We can get you in to see them immediately. Would you like more details on any of these homes?"
"Hi [insert name] check out this online tour of the Main Street house that I want to show you tomorrow. Let me know what you think. [MMS image included in the text here].
"Hi [insert name], check out these images of the houses downtown that I want to show you tomorrow. Let me know what you think. [MMS image included in the text here].
"[Insert name] thank you for visiting our website. We look forward to connecting with you soon. In the meantime, feel free to text us here. Otherwise, we'll be in touch shortly."
"Hi [insert name], thanks for registering on our website. How can I help you with your search?
"I look forward to meeting you tomorrow on our tour of the three houses you have interest in viewing. The first address is 5555 Example St, Example, EX 50614. Let's start there at 10 am and go there. Text me here if anything comes up." Of course, one important thing to note about the text script above is that it includes an address. This will of course link to whatever map app they have in their phone. This is an added bonus since they would probably search that address in their map app on their smartphone anyway.
"Hi [insert name], it's George with The Real Estate Group. Are there any specific listing I can email you?"
"Hi [insert name], it's Sam with The Real Estate Group, LLC. Here are the houses I think you should check out tomorrow: 1) Adams St. House, 2) 33 Acorn Dr and 3) 12 Circle Cir."
"Hey [insert name]! What is your availability this week? We could set up an appointment to browse a few homes. This way, you can get a better idea of what's out there."
"How long have you been searching for a home? It can completely be a tedious process. Let me know the basics and I can send you what we have right now!"
"Hey [insert name], I have a free webinar tonight on how to get the most for your house, come to www.freehouse at 9AM PST.
"It's a HOT, HOT, HOT summer market. What's your home worth? Text back for home evaluation!"
"FREE Seller Seminar: How to Sell for More. Topics Include: Seasons, Home Preparation, Market, Price, Trends and so much more. For more details on this event, reply "Yes". Text STOP to end"
"Thanks for your interest in the Realtor in Los Angeles 101 Guide Webinar. For your convenience, click to join at examplewebinarlink.com"
As this article has outlined for you, texting in real estate is best way to communicate. Consequently, it's important to start texting with Sendhub, who is listed on the National Association of Realtors website and is the texting provider for realtors. Schedule a demo with SendHub today.